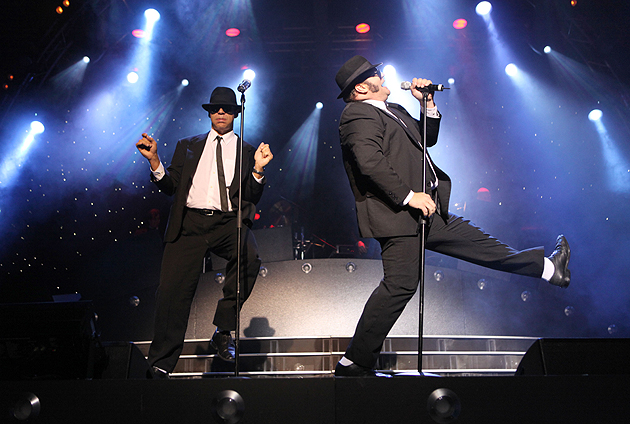 The Soul Brothers
Blues Brothers Soul Band Rhythm with Chris and Geoff Dahl, real brothers from London, Ontario, this Blues Tribute is a high-kicking, ball-busting, hard-rocking, nail-biting, cat-fighting, film-faking, tight-fitting, feet-stomping, dance-crazed, alcohol-hazed, powerhouse performance of a show. (Amen!) None of the success of this show would be possible without the sheer class of the bands musicians. Jake and Elwood themselves are fictional characters (created originally by John Belushi and Dan Aykroyd), but there is no substitute for the genuine top-quality accomplishment of the players. This being a concert/show, all the band members are live on stage and nothing is Pre-programed electronic disco or back tracks. What you see are master blues men at their craft, this is one of the tightest bands around and provide the main drive of the performance; the guitar, keyboard and sax playing are particularly impressive.

Then there is the music itself. With songs by figures such as Ray Charles, Cab Calloway, John Lee Hooker, Aretha Franklin, James Brown (the "Godfather of Soul") and Booker T. & the MG's how could it fail to be anything other than a musical extravaganza? Even the most skeptical of audience members will be on their feet dancing. There is enormous variety in the songs performed, from Soul to Blues and the Stax/Volt Rhythm & Blues. The whole production is something that must be experienced by everyone!

So grab your sunglasses and your pork-pie hat; get down with your blues and go see these good ol' boys for a truly mind-blowing evening.