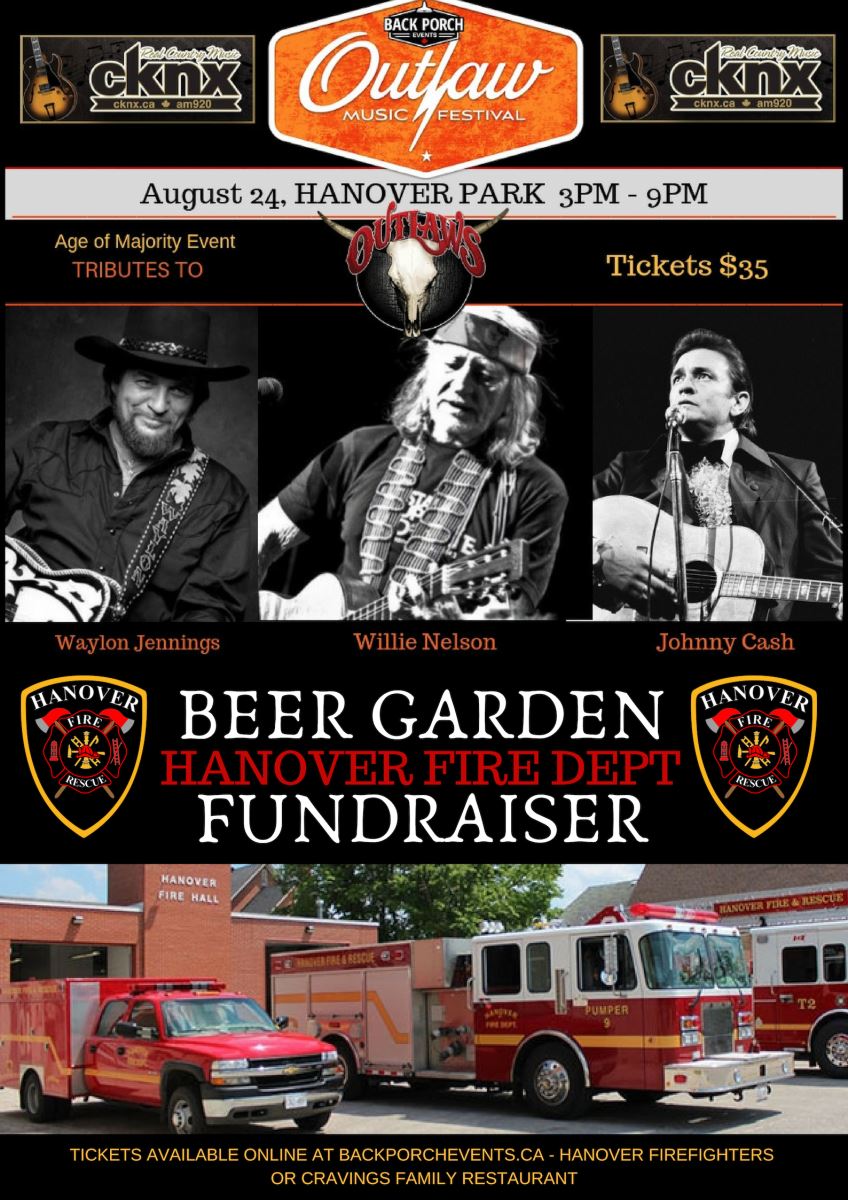 CKNX AM920 & Back Porch Events are pleased to present a very special concert
Hanover Park, August, 24, 2019

Back Porch Events & the Hanover Fire Department have formed a community partnership to assist in the raising of funds for our local Hanover Firefighters who need to replace their Insulated Fire Fighter boots.These boots can range in price from $200 to $500 each. We currently have 26 trained firefighters and Officers on the Hanover team. Any funds raised over this amount will be used for other necessary equipment.
In most towns, firefighters are the first ones to the scene. Responding to a variety of fire and rescue calls, these men and women serve and save community members every day. But without the support of our businesses and residents, local non-profit fire departments wouldn't exist. To ensure our firefighters can do their jobs, they need support from local companies and residents like you. We are hoping for support from you on this fundraising endeavour.
"Outlaw Country"
JOHNNY CASH - WILLIE NELSON - WAYLON JENNINGS
This concert will be a tribute to an era of intense cultural exchange between Nashville and Austin, Texas, in the 1970s, when country music's Outlaw movement was on the rise.
Back Porch Events has assembled a lineup that includes three top-ranked Canadian tribute artists performing and paying tribute to Johnny Cash, Willie Nelson and Waylon Jennings.
Such a presentation usually comes together only for multi-day music festivals.
A one-day show of such scope and quality should set the tone for this event to become an annual offering paying tribute to many Country Superstar Legends.
Bringing together three of the four legendary country music superstars who formed the "Highwaymen" and were frequently referred to as "the Mount Rushmore of country music," Willie Nelson, Waylon Jennings, Johnny Cash, and Kris Kristofferson – were American country music's first bona fide supergroup, an epic group comprised of the outlaw country genre's pioneering stars.
Songs featured at this concert will include but not be limited to legendary classics like:
Johnny Cash - "One Piece At A Time" "Understand Your Man" "A Boy Named Sue" "I Walk The Line" "Man In Black" "Jackson" "Hurt" "Folsom Prison Blues" "Sunday Morning Coming Down" "Ring Of Fire"
Performed by "Ring of Fire A Johnny Cash Experience"
Willie Nelson - "Blue Eyes Crying in the Rain" "If You've Got the Money (I've Got the Time)" "Georgia on My Mind" "Blue Skies" "My Heroes Have Always Been Cowboys" "On the Road Again" "Always on My Mind" "City of New Orleans" "Forgiving You Was Easy" "Living in the Promiseland" "Midnight Rider" "Remember Me (When the Candlelight's Are Gleaming)" "Uncloudy Day" "Angel Flying Too Close to the Ground" "Last Thing I Needed First Thing This Morning" "Nothing I Can Do About It Now"
Performed by "Like Willie" Guy Melanson
Waylon Jennings - "Lonesome, On'ry and Mean" "Ladies Love Outlaws" "I've Always Been Crazy "I'm a Ramblin Man "Only Daddy That'll Walk The Line" "Amanda" "Honky Tonk Heroes""Cowboys "With Willie Nelson, "Good Hearted Woman" "Luckenbach, Texas (Back to the Basics of Love)" "Are You Sure Hank Done It This Way"
Performed by "Bob Gill"
This event will begin at 3pm and end shortly after 9pm; it is an Age of Majority Event.
The Outlaw Country Jamboree is a licensed event, food vendors will be on site ,
bring your lawn chairs and smiles, and be ready for a flash back in time to some good old outlaw country music!
Only 1000 tickets will be sold on a first come first served basis.. This is a rain or shine event.
HANOVER FIRE DEPARTMENT
Who are the brave men and women who respond to our fire related 911 emergency calls? Do we really know who they are? Maybe not personally, but we know them. These are the mothers, fathers, sons and daughters and possibly some of the bravest male and female firefighters of the world. We should familiarize ourselves with the firefighters of our communities. All it takes is a brief trip to your local fire department.
Lack of community support often makes firefighters feel cut off from the rest of the community. Firefighters are no different from you or me, other than they have been extensively trained to have life saving skills, and have learned the art of fire prevention and suppression. Most fire departments try to reach out to the community by hosting money raising events. Like everyone else, these events are important to the firefighters in our community. These events raise money for much needed equipment, help us support Hanovers Team by joining us for this event!
CONCERT CHECKLIST
Going to concerts is a favorite pastime for music fans all over the world. If you are planning to attend this concert, either alone or with friends, there are some items you should keep handy to ensure an enjoyable day. A little preparation will make you comfortable and allow you to focus on the performance.
Tickets
It might seem that this is a given, but it is absolutely essential to bring tickets to concerts for entrance. Nothing spoils a concert night quicker than arriving to the gate and realizing the tickets were left at home. If you are going with a group of friends, communicate with one another to be clear who is responsible for holding onto the tickets and where they are being held.
Camera/Phone
Taking pictures at the concert is the perfect way to preserve memories of the event.
Identification
This is an Age of Majority Event, bring a provincial ID, passport or driver's license that you can use to verify your age at the event.
Weather-Protection
This venue is outdoors, it is a good idea to pack a sweater in case it gets cold. If it rains, you may want to be prepared with a poncho to protect your clothing and belongings. It is also a good idea to bring sunscreen, sunglasses and a hat.
What to Bring
Last but not least bring a lawn chair, you can bring snacks and unoppened water but please respect that any carry in bags will be searched by the Security Officers to ensure there is no liquor .
By taking the time to come out and enjoy yourselves at our concerts, you are supporting us in a
very big way. Thank you and we look forward to enjoying the show with you!!
No pets, with the exception of guide or service dogs for guests with disabilities.
All performances are rain or shine. No refunds. Be courteous of your neighbor, no umbrellas. Poncho's work best
Gates open at 2pm one hour prior to show time.
MEDIA SPONSOR