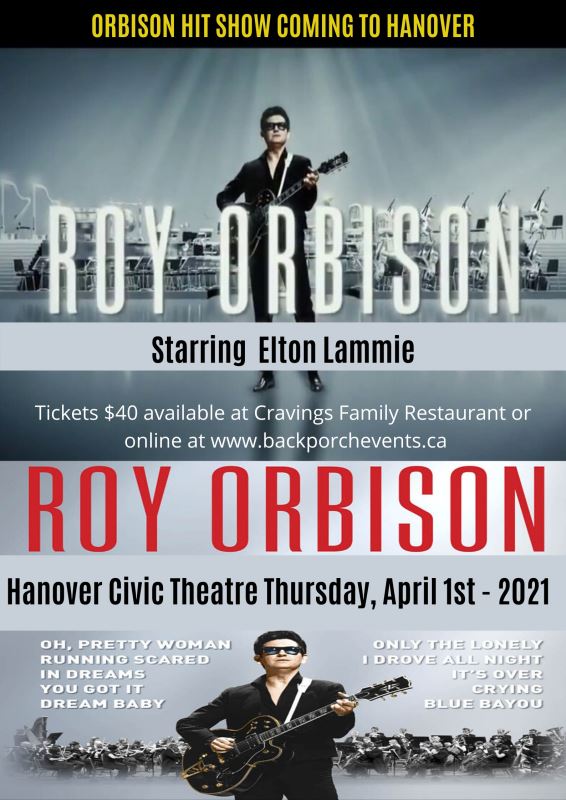 ONLY THE LONELY- Tribute to Roy Orbison
Roy Orbison was an American singer, songwriter, and musician known for his powerful voice, wide vocal range, impassioned singing style, complex song structures, and dark, emotional ballads. From 1960 to 1966, 22 of his singles reached the Top 40, and he wrote or co-wrote almost all that rose to the Top 10. He has sold millions of records worldwide and his honors include inductions into the Rock and Roll Hall of Fame in 1987. Rolling Stone placed him at number 37 on their list of the "Greatest Artists of All Time" and number 13 on their list of the "100 Greatest Singers of All Time'. In 2002, Billboard magazine listed Orbison at number 74 in the Top 600 recording artists.
Elton Lammie has made quite a career for himself as a country music singer and tribute artist to Roy Orbison. As a vocalist, Elton has won dozens of talent competitions in Canada and the USA. He has extensive Radio and TV credits as a performer. If that wasn't enough, Elton struck out as a legit Opera Tenor! by winning a televised reality show looking for Canada's next Opera Star. This operatic training has also paved the way for a successful venture as a Roy Orbison impersonator. Orbison had one of the most unique, powerful and cherished voices in recorded music history and Elton is one of very few Roy tribute artists in the world that sings the songs in the original keys.
Only the Lonely- a Tribute to Roy Orbison songlist includes....
Only the Lonely, Running Scared, Crying, In dreams, Oh Pretty Woman, Blue Bayou, Sweet dream baby, Oobie Doobie, It's Over, Mean Woman Blues, Candyman, You got it, California Blue, Claudette, Uptown, Leah, End of the line, Handle me with care and more.......