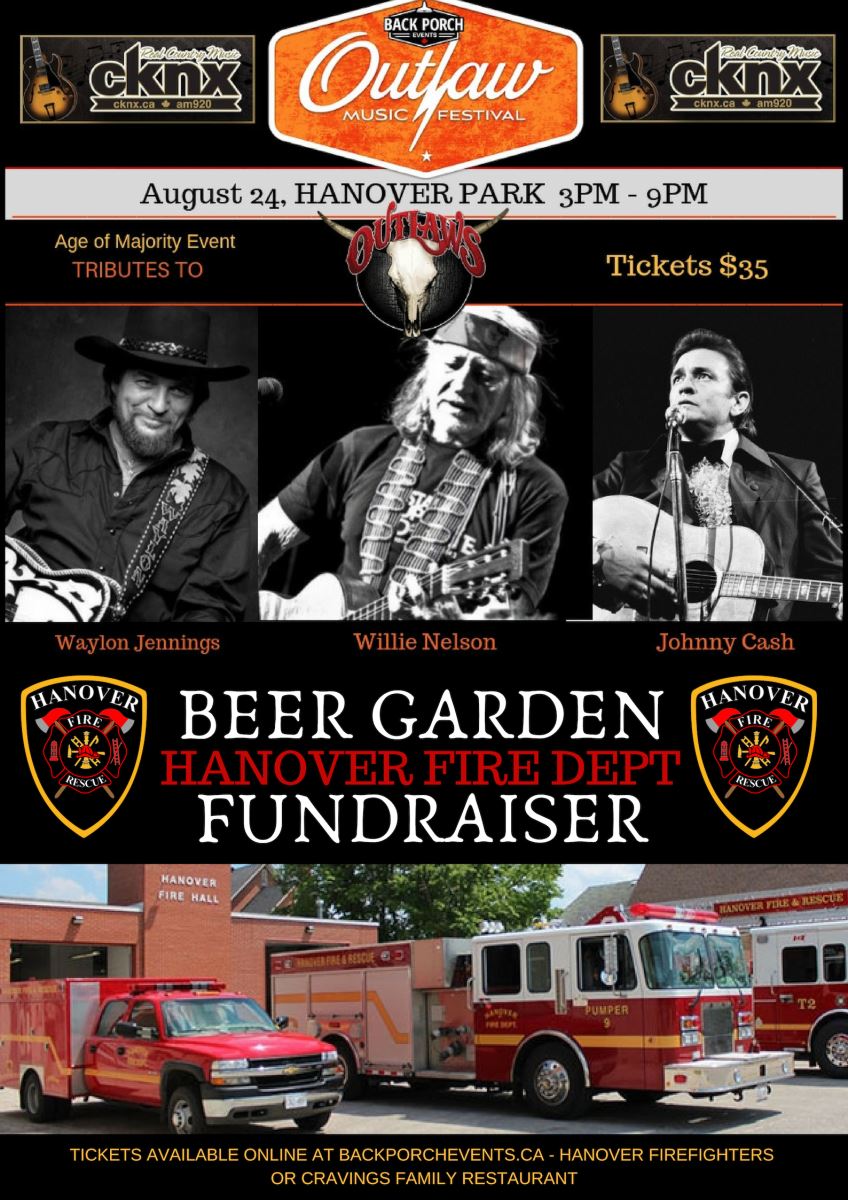 CKNX AM920 & Back Porch Events are pleased to present a very special concert
Hanover Park, August, 24, 2019

"Outlaw Country"
JOHNNY CASH - WILLIE NELSON - WAYLON JENNINGS
This concert will be a tribute to an era of intense cultural exchange between Nashville and Austin, Texas, in the 1970s, when country music's Outlaw movement was on the rise.
Back Porch Events has assembled a lineup that includes three top-ranked Canadian tribute artists performing and paying tribute to Johnny Cash, Willie Nelson and Waylon Jennings.
Such a presentation usually comes together only for multi-day music festivals.
A one-day show of such scope and quality should set the tone for this event to become an annual offering paying tribute to many Country Superstar Legends.
Bringing together three of the four legendary country music superstars who formed the "Highwaymen" and were frequently referred to as "the Mount Rushmore of country music," Willie Nelson, Waylon Jennings, Johnny Cash, and Kris Kristofferson – were American country music's first bona fide supergroup, an epic group comprised of the outlaw country genre's pioneering stars.
Songs featured at this concert will include but not be limited to legendary classics like:
Johnny Cash - "One Piece At A Time" "Understand Your Man" "A Boy Named Sue" "I Walk The Line" "Man In Black" "Jackson" "Hurt" "Folsom Prison Blues" "Sunday Morning Coming Down" "Ring Of Fire"
Performed by "Ring of Fire A Johnny Cash Experience"
Willie Nelson - "Blue Eyes Crying in the Rain" "If You've Got the Money (I've Got the Time)" "Georgia on My Mind" "Blue Skies" "My Heroes Have Always Been Cowboys" "On the Road Again" "Always on My Mind" "City of New Orleans" "Forgiving You Was Easy" "Living in the Promiseland" "Midnight Rider" "Remember Me (When the Candlelight's Are Gleaming)" "Uncloudy Day" "Angel Flying Too Close to the Ground" "Last Thing I Needed First Thing This Morning" "Nothing I Can Do About It Now"
Performed by "Like Willie" Guy Melanson
Waylon Jennings - "Lonesome, On'ry and Mean" "Ladies Love Outlaws" "I've Always Been Crazy "I'm a Ramblin Man "Only Daddy That'll Walk The Line" "Amanda" "Honky Tonk Heroes""Cowboys "With Willie Nelson, "Good Hearted Woman" "Luckenbach, Texas (Back to the Basics of Love)" "Are You Sure Hank Done It This Way"
Performed by "Bob Gill"
This event will begin at 3pm and end shortly after 9pm; it is an Age of Majority Event.
The Outlaw Country Jamboree is a licensed event, food vendors will be on site ,
bring your lawn chairs and smiles, and be ready for a flash back in time to some good old outlaw country music!
Only 1500 tickets will be sold on a first come first served basis.. This is a rain or shine event.