Sponsorship for Outlaw Country Music Festival - Hanover Firefighter Fundraiser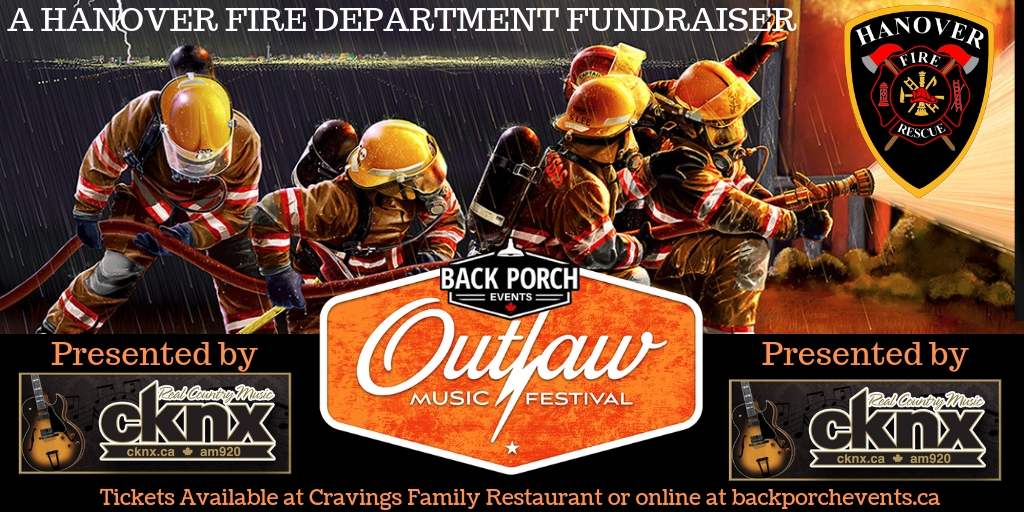 Back Porch Events & the Hanover Fire Department have formed a community partnership to assist in the raising of funds for our local Hanover Firefighters who need to replace their Insulated Fire Fighter boots.These boots can range in price from $200 to $500 each. We currently have 26 trained firefighters and Officers on the Hanover team. Any funds raised over this amount will be used for other necessary equipment.
In most towns, firefighters are the first ones to the scene. Responding to a variety of fire and rescue calls, these men and women serve and save community members every day. But without the support of our businesses and residents, local non-profit fire departments wouldn't exist. To ensure our firefighters can do their jobs, they need support from local companies and residents like you. We are hoping for support from you on this fundraising endeavour.

We have listed Sponsorship opportunities below. Please select a sponsorship level that
you would like to show your support
If you are unable to assist through your company why not purchase a ticket,
by taking the time to come out and enjoy yourselves at this concert, you are supporting
us in a very big way.
Thank you we look forward to enjoying the show with you.
Once you select the Sponsorship that is right for you and process your payment,
your sponsorship will be confirmed and we will mail you the tickets associated with the sponsorship you choose.
Sponsorship Opportunities
Event Title Sponsorship – CKNX AM 920 Real Country Music – (One)